| | |
| --- | --- |
| Trade Name | Office G&C |
| OFFICE | OFFICE Nishi-ku, Kobe, Japan |
| SNS | Facebook, LinkedIn |
Managing Director
Masato "Marsh" Nakayama
MBA, Kobe University Business School
Certified Mentor & Coach (Japan Mentor Coach Association)
Guest Professor, Kobe Gakuin University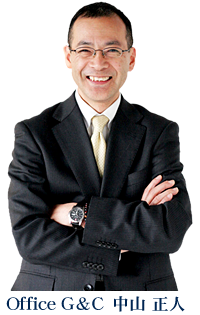 Work Method Navigator, Managing Director Office G&C
Lives in Kobe, Japan

Mr. Masato Nakayama is a specialist to improve organizational productivity. He believes that productivity is critical for growth of companies and looks at the productivity from four levels – business strategy, relationship between/among divisions, single division itself and individuals.
He is doing his training and consulting all over Japan.
Up to 20,000 people have ever experienced his training, lecture and consulting so far.

Based on his own experiences in business and learning at business school, he finds out the critical point of the clients like super physician.
He is an unique professional who can provide one-stop service of training, consulting and coaching for the clients.

After 9 years experience of HR at an established synthetic fiber industry, he moved to younger apparel company where he could do business quicker.
Just after he earned MBA degree with excellent records from Kobe University business school, the oldest one in Japan, he was diagnosed as affected by cancer and got through surgery with despair.
After coming back to his job, he was appointed a general manager in charge of both corporate planning and HR, even though he was still fragile.
He became groggy at around 6:00 pm every day at the office, which was called "dead battery" by colleagues and subordinates.
He learned how to fulfill his mission within limited time.
He accomplished building a corporate plan, HR system, new business development, M&A and investment to overseas company, furthermore joined management team of a company he engaged in buying out.

He founded Office G&C in 2000 and started his own business of training and consulting.

He has a reputation that he arranges the training and lecture flexibly upon client's request and participants' experience & capability.
Many of the participants give him feedback saying that his training goes in a friendly atmosphere, and is easy to understand and practical.

From the view of productivity in business strategy level for Japanese companies, Mr. Nakayama is keeping a close relationship with Malaysian consulting firm and other business partners and is working jointly with them.